I've been thinking about adding some DJ profiles to the Trancendance website for some time now, and what better way to get things kicked off than introducing one of the few DJs that always makes it onto my iPod playlist.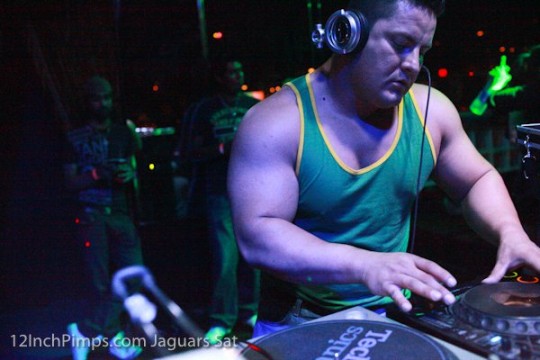 DoZeR caught my attention a couple years back when we met, virtually, through Soundcloud. Originally from New Mexico, DoZeR is now based out of Dallas, Texas. I can't remember who found who first, but we both quickly recognized that our musical tastes where a tight fit. We even did a collaboration mix across the internet (which I had almost forgotten about until just now!).
djsm: How did you get the name DoZeR?
dozer: I got my name because people say I looked like a "bulldozer". So I changed my dj name to DoZeR.
djsm: What was it before you changed it?
dozer: I used to go by Adrenachrome, like the crazy drug taken in the movie Fear and Loathing in Las Vegas, later on I tried with chemsex, then I used Dozer is much easier to say anyway.
djsm: That's quite possibly my all-time favourite movie. Wait what is chemsex ? Is this the one used in the United Kingdom to describe intentional sex under the influence of psychoactive drugs, mostly among men who have sex with men right ?What styles do you mix?
dozer: I mostly play progressive house, or anything in the spectrum of trance, from psytrance to tech trance. Usually I throw in some good techno and breaks to spice up my sets.
djsm: What's your typical DJ setup?
dozer: 2 Technics 1200s, 2 CDJ 1000s, and a Pioneer DJM 800
djsm: Do you have a most memorable DJ moment?
dozer: My most memorable DJ moment is when I went to see DJ Keoki spin in El Paso,Texas in 1998 and he was so wacked out on drugs that he was trainwrecking all over the place. He kept leaving the stage to do whatever (cough*). The sold out crowd booed! I had never seen a DJ go down in flames like that before. After watching Keoki crash and burn behind the decks, I made a promise to myself to never spin for a crowd if I didn't have a clear mind. It left an impression on me, on the type of DJ I did not want to become.
djsm: Um… I do believe he goes by "Superstar" DJ Keoki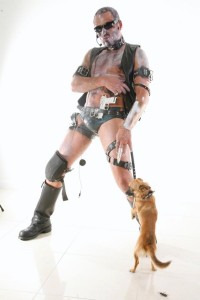 Photo graciously borrowed from MySpace
djsm: So when did you get started DJing?
dozer: I started Dj'ing in 1997. Oh man how time flies by…
djsm: Who was you inspiration back then?
dozer: When I was getting really into trance Paul Oakenfold had set the bar high with his Tranceport album. Then I heard Christopher Lawrence live and I was blown away by his dark raw style of trance. So I attempted to have a good balance between the two styles of progressive and hard trance/psytrance and those two styles of trance have really shaped my unique style. As of now I still follow Christopher Lawrence because I can ALWAYS expect no nonsense underground trance. That dude has never sold out.
djsm: Do you have a favorite old school track?
dozer: My favorite old school track probably by Cranium HF – 16 bit Suicide this song totally captures the underground sound I love so much.
djsm: What about a current fave track?
dozer: My current favorite track is James Allan vs. The Digital Devil & G-dub – Dropzone (Tempo Giusto Remix) WOW!!!
djsm: Just gave that a listen… Nice choice! Have you dabbled in production or remixing at all?
dozer: I'm just learning production and man, there is so much to learn to make a track sound good. It's really hard for me to dedicate that much time to production. My free time is limited, but mashups are rather easy to do and I have fun making those. I use Logic Pro Studio, Pro Tools 8 and Ableton Live. I also use Audacity to record my mix shows.
djsm: What do you like to do in your free time when you're not spinning?
dozer: In my spare time I like to hit the gym and keep fit. I'm 34 but I feel 21.
djsm: I probably should have been able to figure that out from the photo! What about a day job? Or does DJing support you full time?
dozer: As a career I am a petroleum landman. I research mineral ownership and lease land for oil and gas drilling. I wish I made a living from DJing!
djsm: Do you have any upcoming shows where we can see you play?
dozer: Yes I have several shows coming up:
Aug 24,2012 – at Dt's and
Sept 1, 2012 at a Field Party called Buzzfest.
Both events are in Dallas.
I also have 2 shows in Dallas coming up in October at Temptation Afterhours and Club EMERGE a brand new EDM club that opens this weekend and a BIG show in St. Louis this November (I hear that one is going to be huge they did their booking for it this past summer!!
djsm: How do you get your gigs? Do you use a talent agency? Or do you contact the promoters yourself?
dozer: Finding gigs was never hard for me. I am pretty good with people and establish friendships rather easily so finding bookings in the Dallas area has never been too hard. I would like to get an agent and travel more to new cities and clubs, but lately I have been landing bookings in cities I've never been to, all because of Soundcloud believe it or not.
djsm: What about for the fans around the world, where can we hear you online?
dozer: You can find me on Facebook at facebook.com/Trancedozer and you can hear several of my mixes on Soundcloud at soundcloud.com/dozerthedj
djsm: Don't you have a regular radio show too? Where can we hear that?
dozer: You can catch my bi-monthly radio show at clubradionyc.fm every other Sunday at 9pm central time. Its called Tour de Trance but I am about to change the name to Hanger 18.