Every now and then I come across a DJ (or pair of DJs) that is (or are) a perfect match for my musical taste, and it's beyond fantastic because they introduce me to a whole new set of artists and tracks that are instant favourites. Ru-Bix vs Jester is (are) exactly like that. If I recall correct (and likely I don't), first contact was made when they submitted a mix to the Trancendance Soundcloud group. Now we're in touch via Facebook at least once a week.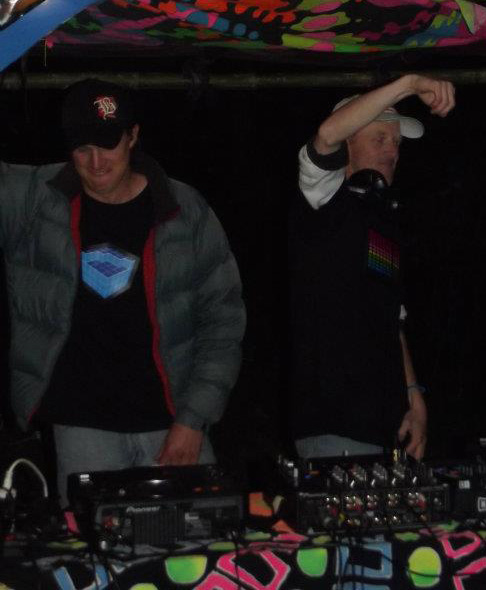 djsm: So… Multiple personalities? Or is Ru-Bix vs Jester more than one person?
jester: We're brothers… Emmett & Jesse Andersen from Blenheim, New Zealand.
djsm: How did you get your DJ names?
jester: Well a promoter friend and mentor of ours (FLUX, founder of the famous Gathering parties here in NZ) wanted to put on a free outdoor party and asked us to play. Emmett and I were very green, we'd done a few private parties, hung out with some DJ mates etc, but that was about it until then. Basically, we were asked what our DJ names were to put on the flyers. I had a think about it… I was well into the whole Twisted Records/Dragonfly type stuff, so guys like Dick Trevor were an influence. Dick Trevor's handle is "Dickster" so Jester was an easy choice. Ru-Bix was the result of an extensive brainstrorming session.
djsm: When did you start DJing?
jester: Before, it never crossed my mind to be a DJ, I just liked playing video games and getting elo boosting services from ElitistGaming. Both of us have been messing around since around 2004-2005, Emmett for a bit longer. I've been listening to electronica & trance since around '93 but it took me 10 years or so to take the next logical steps. I decided to go the digital route as by that time most of my tunes had already been ripped to digital, so for me it just made sense. Our first official gig together as Ru-Bix vs Jester was early 2008. So, yeah… its been a few years now. 2008 was also when we took things a bit more seriously and started investing in some gear.
djsm: Speaking of gear… what kind of equipment do you mix on?
jester: We have a Pioneer DJM600 Mixer and CDJ800mkI decks, a Denon DNX1600 Mixer, and Native Instruments Traktor Scratch Pro with Kontrol X1 Controllers. We've also been playing around with the new DJ Techtools Midifighter 3D Controller. Headphones of choice are Sennheiser HD-215/205, and then rounding things out, an Audio 6 Interface, Dynamic M-58 Microphone, Wharfedale Pro 15″ Active Speakers, and B&W 10″ Sub. As well as all these toys, we have access to a lot more "communal" gear as well. Then more speakers, lighting rigs, that sort of thing.
djsm: What about before you got serious? Did you dive right in? Or what did you get started on?
jester: Emmett learned a little on the turtables, and moved to the CDJ's soon after that. I was already messing about with FL Studio (Fruity Loops back then) so learned on Imageline's Deckadance software with my famous "Psyboard" & Mighty Mouse.
djsm: Sounds like psytrance was a pretty big influence then, and it's certainly what drew me to your mixes at first. Have you explored any other styles?
jester: What do you want to hear? Obviously we both love playing progressive/psytrance and thats not going to change anytime soon, but we can play anything "From House Up". Emmett plays a bit of drum & bass as well and has actually opened for the Upbeats. Most nights we start off with the house and work the energy up as the night progresses. Definitely we try to sneak in some banging trance at our gigs.
djsm: Do you find that promotors ask or dictate what styles they want or don't want you to play? Or do they mainly leave it up to you?
jester: Yeah we really only do parties that suit us. We can play a variety of styles but just don't ask us to play a dubstep gig
djsm: Lol! What about production? I haven't been able to find anything official, but have you put together any bootleg remixes, or mashups?
jester: Like many, we mess around a bit. Nothing good enough to upload. Not enough hours in the day!
djsm: What software have you been using when you're "messing around a bit?"
jester: I have the odd project on the go in FL 10… who knows when they'll get finished. We use Audition for mastering mixes.
djsm: Do you guys have most memorable DJ moment?
jester: I think when we played last year at an outdoor party called "Twisted Freaks" …together in a back 2 back set.  As our set progressed the crowd just grew and grew until it was massive. It was a great moment for us.
djsm: Caddyshack and I are big fans of the oldschool… What's your favourite classic/oldschool track?
jester: Well mine is obvious, "People Can Fly" by Astral Projection. Emmett's is "Thugs In Tye Dye" by Hallucinogen. He has that on vinyl as well.
djsm: Ahh! Hallucinogen! I have The Lone Deranger album on vinyl, along with a couple of their EPs. Ever listen to Cosmosis? Their Cosmology album from around the same era was another favourite of mine. It was one of Transient Records earlier releases. Several years later they released an album titled Trancendance…
jester: Love that album. "Sanyacid" and "Gift Of The Gods" … fantastic.
djsm: So is that the kind of stuff that got you interested in DJing? What else where you listening to around that time?
jester: Astral Projection and old Infected Mushroom were what got us into the psytrance thing. Label-wise… Trust In Trance, Matsuri Productions, Twisted, Dragonfly, TIP, Flying Rhino. All the old stuff.
djsm: What about now? Which ones are on your watch list?
jester: Iboga Trance, Iono Music, Yellow Sunshine Explosion, Synergetic, Tesseract, Suntrip, Ovnimoon, Plusquam, Echoes, Nano, HOMmega, Timecode .. The list is big.
djsm: Hmm… several familiars, but a few new ones in there. Looks like I'm going to have to check out Synergetic and Suntrip. What's your current fave track?
jester: That's always a hard question! At the moment mine would be Dickster's "Dizzy Drops – Sonic Species Remix." Emmett's is "Express" by Hiyarant.
djsm: Has that changed since I first asked you the question almost two months ago, maybe more? *hangs head in shame at how long it's taken to post this interview*
jester: Well to be honest my favourite tracks are usually in my latest mix, so to answer your question, yes that has changed. My current favourite is John '00′ Fleming's "The 10th life (Artifact303 Remix)" and thats in the new set i'm working on.
djsm: So where can I come and hear you play if I happen to be down in New Zealand?
jester: We have some semi-regular house gigs in town, where we usually team up and play with some buddies. We are in a small town so bigger parties are harder to organise getting to. Two festivals we are looking into playing are the Twisted Freaks party, again in October, and we have been invited to play at Alien Nation next year (NZ's premiere Psy festival). We couldn't play there this year due to Ru-Bix getting married.
djsm: Married!? Wow… that's like a whole 'nother interview! Where can we find you online?
jester: We have a Facebook page, a Soundcloud page and Soundcloud group, and also a podcast. I work for djtechtools.com as a moderator on the forum (my handle is Jester.nz)
djsm: Tell me a bit more about DJ Tech Tools…
jester: Well i discovered djtechtools.com in 2008 after purchasing my first midi controller and having no clue how to map it. I lurked on the forum for a while before joining the community in 2009. I was promoted to moderator in 2011.
djsm: Is that a full time gig? Between DJTT and DJing, is it enough to pay the bills?
jester: If they paid me that would be sweet but its on a voluntary basis. We do get some good deals from the store though. The site has exploded in the last 3 years and i believe the forum has over 80,000 members now. Recently we have added a production section, Ableton and Serato forums.
djsm: Do you have anything else that you would like to be asked about or that readers/listeners might find interesting?
jester: Well I'd like to say thanks for the shouts and for playing our stuff on CiTR, its a great honour, and for sure its helped us out. We are involved with a few stations now, and that really helps with the motivation to step it up and put up some great mixes. To the young up and coming DJs… buy your tunes. Producers have to eat too! Go to shows and experience as much good music as possible guys. Boom Shiva!