Carl Cox has been my top influence since the first time I saw him play at Subconsious – an all night rave event that took place in the UBC hockey rinks before they stopped hosting such events. As a producer I'm not a huge fan of Carl and even his mixed CDs seem more Chicago House than I would ever listen to. But in the 3 times I've seen Carl Cox play on the West Coast his sets have been uber-brilliant – maybe best described as Tribal Trance. His live DJ sets – at least the one's I've heard – are nothing like his house CDs.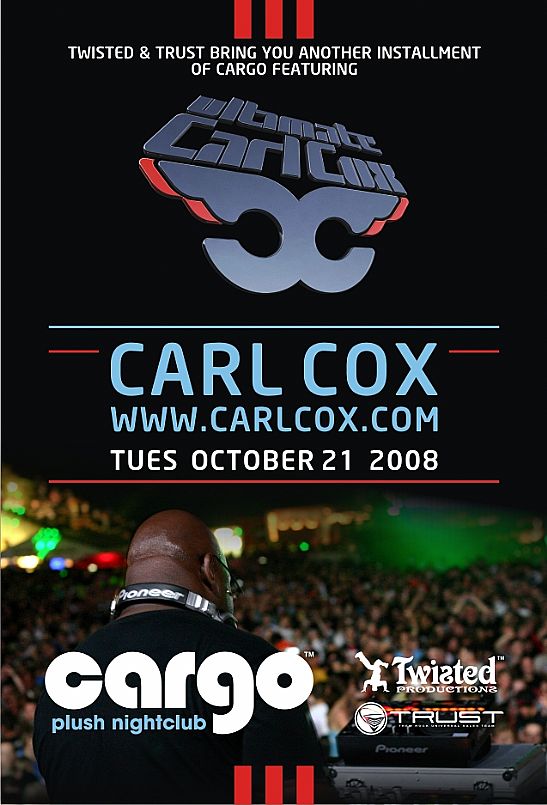 The biggest reason I have such high respect for Carl Cox is his mixing style. When I have seen him, Carl Cox has always played on 3 turntables. His mixes are almost constant – that is – he almost always has more than one record playing. After watching and listening over the years I picked up a technique that Carl seems to employ. I swear I see Carl play in 'tripples' – that is 3 records that fit well together. He will mix back and forth until the first 2 records are properly lined up to peak together – then he will prep the third record to peak at the same time, but waiting until the other two peak before slamming in the third record so all three records peak at the same time and the new sound of the third record adds intensity to the peak.
Carl Cox doesn't line up beats – he lines up entire records to fit together.
After the three records peak together there's not much left and so a short mix leads into the beginning of the next 'tripple'. I remember hearing these short mixes every now and then when Carl was playing and thinking how wimpy it sounded after such colossal intensity of his previous mixing. It was only when I stopped to pay attention closely that I could see why the need (and the justification) for such a short mix.
My other memories of Carl Cox are that he always played late for a headliner. He might not even start until 4 or 5am – and rumours would start that he wasn't even going to show – but he seemed to prefer to play long sets for the die hard fans that were still going strong at 8am. I remember seeing Carl play for about 50 dancers that were left on the floor (after 1000s of others had dispersed). Another 50 people stood around the dance floor in a semi-circle just watching.
I've never seen a group of ravers stand and watch a DJ with such a respect as that.
Those of us still on the dance floor where absolutely exhausted – but every time it seemed like a lull to take a break, Carl would bring it up again and we were held hostage on the dance floor. Ever since that night (morning) I've known Carl Cox affectionately as 'The Puppetmaster' – his ability to keep people moving on the dance floor is second to none.
DJ Carl Cox Vancouver 2008 with Jon Rundell
Tue Oct 21, 2008 @ Plush Nightclub, Downtown, Vancouver
Cost: $35
By: Twisted Productions, Trust & Cargo