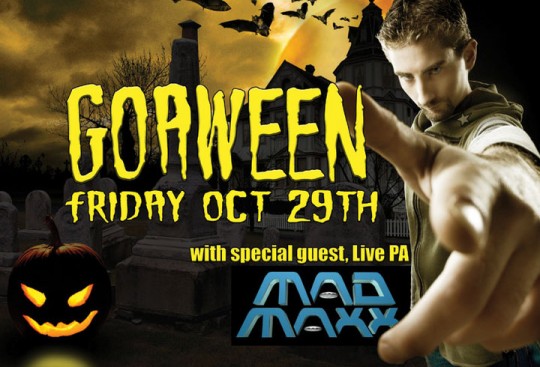 When I heard Mad Maxx was coming in from Spain to play a live set of full on psytrance in Vancouver this Hallowe'en, I couldn't wait! In the last few months I've rediscovered my psytrance roots, and really been loving some of the new stuff. Mad Maxx stood out as one of my favorites and I've featured his tracks most notably on my Journey to Here episode. (I thought I had featured him more, but am a bit excited to see that I haven't overplayed his tracks. Maybe I'll feature him in the Hallowe'en podcast.)
Anyways, Mad Maxx is actually Max Peterson who was born in San Diago but spent time living in France and Mexico before moving to Spain where he is currently based. In 2000, Max teamed up with Samy Guediche (CPU) and Nicolas Oesch (Mekkanikka) to create a group called Biodegradable. After the success of their album, Phaser, Max joined up with Davina Elmosnino and created the Trance Project formerly known as Sirius Isness.
Don't miss tomorrow's show at 23 West in Vancouver! Event info is on the Facebook Event page. You can find a little more about Mad Maxx on the Mad Maxx MySpace page. And watch for more Mad Maxx on Trancendance very soon!