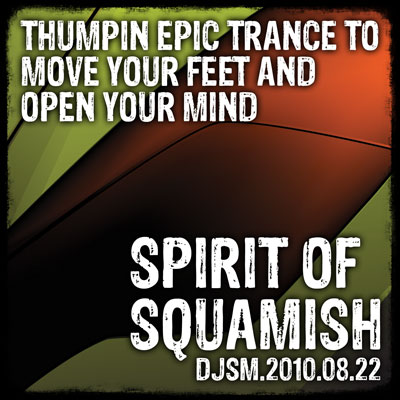 Wow, after a terrible experience on Saturday trying to mix with CDJs, it felt great to lay down a killer epic journey for tonight's podcast. It's got the melodic and uplifting breakdowns, some stomping hard beats that deliver when they're supposed to, and some throwback remixes of some classic trance anthems including I Feel Love by CRW and a remix of Urban Hype's A Trip to Trumpton by Toryn D. This is the set inspired by the Spirit of Squamish where the circle once again returned to gather on Saturday. It was so good to see so many old friends and, as always, make a few new ones too!
Please take a minute to subscribe in iTunes and join the Trancendance Group on SoundCloud.
dj Smiley Mike Killer Epic Trance Mix
A.S.Y.S. – No More F*****g Rock'n'Roll
Ram – Godspeed (Fabio Stein Uprise Mix)
Fabio Stein – Agent of Chaos
Mallorca Lee – Medication Vacation (Fabio Stein's Uprise Re-interpretation)
Mike Nichol – Tweak
Phil Reynolds & Ben Bennett – Progress (dj Smiley Mike Epicrediable Remix)
Energy 52 – Cafe del Mar (Marco V Remix)
Outdare! – Live Today (Parks & Wilson's AnnexeDub)
John Askew – How Can I Put This (Fabio Stein Remix)
Ben Nicky – Catapult (Fabio Stein's Uprise Mix)
CRW – I Feel Love (P.H.A.T.T. Remix)
Nick Rowland – Galactica
Geezk & G.R.G. – Madcake (dj Smiley Mike Smashed & Broken Remix)
Activa vs. eGYPT – Transmission of Spoken Words (dj Smiley Mike Epicane Mashup)
Kaylab – Here We Go (Jam-X Remix)
Toryn D – Trip to Trumpton
As usual, recorded live in a single take using Serato 2.0 with vinyl control records.
Please take a minute and subscribe in iTunes. There's a link in the sidebar to the right. –Thanks!