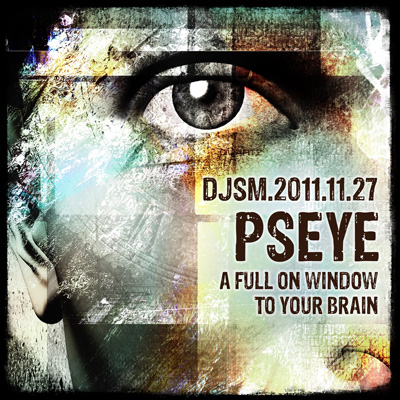 I played Full On psytrance and it's a good set, but Caddyshack's set this week is freakin' mind blowing!
This week I discovered a group named Psy Craft (or Psycraft), which seem to have an awesome blend of full on vocal psytrance. I also played some borderline psychedelic thrash metal by Mystical Complex. Together it made for a pretty diverse range of psychedelic mayhem.
Caddyshack however managed to dig up some of the best trance anthem mashups that I've heard in ages, and wove them together into a masterful set. Do NOT miss his set! The music only version is available for free download from his Soundcloud account (for a limited time).
dj Smiley Mike Full On Psytrance Mix
Sigma – Say Yes Say No
Sigma – War of the Worlds
Crystal Sound & Domatek – Nok Out
Nick Sentience – Threshold
Outsiders – Summer Memories
Psy Craft & Dali – Don't Wanna Be the Same
Psy Craft & Dali – Rebirth
DNA & Mystical Complex – Final Trip
Psy Craft – Follow the Line
Psy Craft – Memories Inside
Calldweller – The Best it's Gonna Get (Mystical Complex Remix)
Psy Craft – New Dance
X-Noise – Rock It
dj Caddyshack Freakin Epic Trance Mashup Mix
Orkidea – Unity
Lange & Gareth Emery – Another You Another Me (Rafael Frost Remix)
System F vs. Cosmic Gate – The Blue Theme (Ferry Corsten Fix)
Eddie Halliwell – Neon
Deniz Koyu vs. Fatboy Slim – Hertz Ya Mama (Makj & Politik Bootleg)
Tiesto & Diplo vs. Phil Collins – C'Mon in the Air (Romain G Bootleg)
Sander van Doorn vs. Afrojack & R3hab – Koko Prutata (First State Bashup)
Marcel Woods – Advanced (Tiesto Remix)
Tiesto – Maximal Crazy (R3hab & Swanky Tunes Remix)
Moby – After (The Loops of Fury Remix)
Avicii vs. Journey – Don't Stop the Levels (TMAN Mashup)