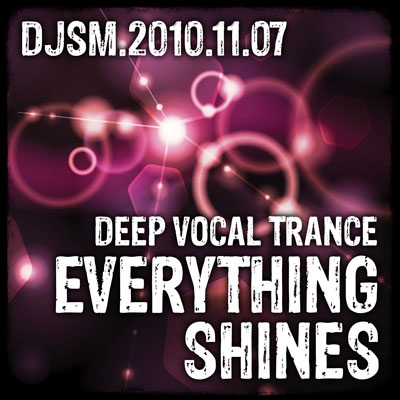 This week was no ordinary week! Caddyshack starts things off with a Canadian Trance set that quickly became an Old Skool classics set and I follow him this week, with a rare ultra deep vocal trance set. Okay, the tracks aren't that rare, but the fact that I'm playing deep vocal trance at sub-130bpm is!
dj Caddyshack Oldskool Trance Mix
DJ Czech – Czech Fu
DJ Czech – Rock Shock
DJ Santana – Fine Night Tonight
DJ Czech – Rockin'
Kimball Dekkard – Lifted (Dekkard Dub)
Energy 52 – State of Mind
The Grid – Swamp Thing
The House Crew – Euphoria
Sydney Blue – Senses & Mind
LSG – Can You See the Yellow Turtles
Notes: Energy 52 is Kid Paul and Cosmic Baby, The House Crew is Floyd Dyce and Acen, and LSG is Oliver Lieb.
dj Smiley Mike Deep Vocal Trance Mix
Deadmau5 & Chris Lake – I Said (Original Mix)
Deadmau5 & Chris Lake – I Said (Sergio Fernandez Remix)
Habersham & Numinous – Rhetorical Question
Chris Vaux – PaRaid
Deadmau5 & Chris Lake – I Said (Michael Woods Remix)
Lish – Running Away
Jonathan Allyn – Near You (Jaytech Remix)
Tenishia – Everything
Max Graham feat. Ana Criado – Nothing Else Matters
Andrew Bennett feat. Sir Adrian – Run Till U Shine (Cosmic Gate Remix)
Markus Schulz – Dark Heart Waiting (Jochen Miller Remix)