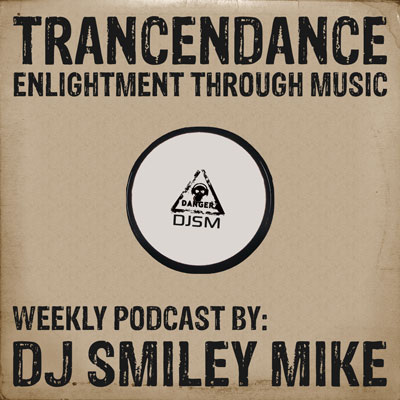 I'm listening to the first third of this weeks podcast right now and watching Metrotown pass by while I ride the train through the blue sky on my way back from another busy day that started off with three hours of dentistry this morning. So now you get why this week's show is untitled. I could have called it the Froster.ca launch show, but that seemed a little too corporate. Yeah – I do have a day job, and this week I was right in the middle of it during the show. How is that possible, given that the show airs from 10pm – Midnight in my timezone? Well, let's just say I'm a dedicated employee that is lucky enough to work with some pretty dedicated people.
Alright, so none of that really has to do with anything musical. What's on the decks this week? I'm still well into my PsyTrance kick. Steve played some of the wonkiest, most twisted trance I've ever heard (sorry, I wasn't able to capture the track list), and Caddyshack dropped a fine mix of old-made-new epic trance.
dj Smiley Mike PsyTrance Set:
Timelock – Radioactive
Disco Hooligans – Clear Skies
Disco Hooligans – Easy to Get Lost
Quadra – Pure Ecstasy (Dynamic Remix)
Save the Robot – I Care
Domestic – Bloom on Day
Quadra – We Shall Overcome
Dapanji – Attention Please
Dapanji – The Dog is Talk
Hunab Tech & Antigravity – Nitro (Lamat Rmx)
F.F.T – Frequency Request (Lamat Rmx)
Lamat & Hans Solo – Next Generation of Science
Dapanji vs Crazy Tone – Dance 2da Music
Steve Krueger Twisted Trance Set:
I didn't get Steve's track list this week because I was winding up a pirate game and launching a new Froster website for Mac's.
dj Caddyshack Trance Mix:
Deadmau5 – Jaded (Caddyshack Edit)
John '00′ Fleming & The Digital Blonde – Nine Inch Nails (The Dub Mix)
Christopher Lawrence & Nicholas Bennison – Continuation (Original Mix)
Ummet Ozcan – Timewave Zero (Original Mix)
Cirez D vs Armin Van Buuren feat Sharon – On Off Love (Armin Van Buuren Mash-Up)
Andy Moor vs Motorcycle – So Much Rush (Myon & Shane Mash-Up)
Dave 202 – Generate the Wave (Original Mix)
Ben Gold – First Class Travel
The Prodigy – Smack my Bitch Up (Richard Durrand Remix)
Taucher – Science Fiction (Cosmic Gate Remix)
Push – Universal Nation (Dumonde Remix)