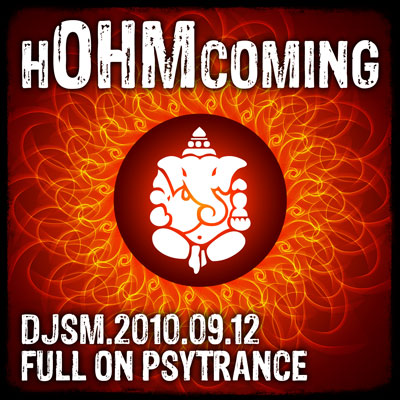 I couldn't wait for this week's show after being forced to take last week off! You guys have been asking for a fix of dark psytrance and this week's set delivers. As usual it's mixed with a fairly deep and twisted selection of fullon psy. I also discovered a great EP by Planewalker titled Psychic Evolution, which is available for free download at Ektoplasm. It's a killer mix of breakbeat and psychedelic trance which seems to be shaping a relatively new sub-genre called psybreaks. While still a relatively young sub-sub-genre of trance, I could see more artists like Planewalker and Dapanji creating a pretty popular fusion between the already popular psytrance and breakbeat sub-genres.
Caddyshack drops some new tracks in his set this week too, including a new Nick Sentience remix of Edison Factor and a killer Organ Donors remix of Adapter by Scott Attrill. Another track worth mentioning for Hard Acid Trance fans is Andy Farley & Base Graffiti – No More. Base Graffiti is one of those names I don't see too often, but it always catches my attention when one of their tracks get's played.
dj Smiley Mike fullon dark and psybreaks mix
Astrix – Acid Rider
Timelock – Radioactive
Alien vs. The Cat vs. Shanti – Ookikabuki (Studio Mix)
Planewalker – Psychic Evolution
Planewalker – Vampire Hunter
Tripy – Trip Out
Mekkanikka – Sweet Afghani Delicious
Ephedrix & Oonah – Space & Time
Sufi – Playground (Getafix Remix)
Domestic – Bloom on Day
Astrix – Eye to Eye (GMS 2010 Remix)
TighT – White Primative
Planewalker – Primary Ascender (Secondary Mix)
Tetrium – Electro Sounds
dj Caddyshack Vocal and Hard Dance Mix
Mauro Picotto – Back to Cali (Organ Donors Remix)
Organ Donors – Dr. Kaotica
Vinylgroover & The Red Hed – Everlasting (Scott Attrill's Hard Electrik Mix)
Vinylgroover & The Red Hed – Hopscotch
Cirez D vs Armin Van Buurin – On Off Love (Armin Van Buurin Mashup)
Edison Factor – Hallucination (Nick Sentience Mix)
Scott Attrill – Adapter (Organ Donors Mix)
Ambers D – Amber's Theme (Alex Kidd & Kidd Kaos Mix)
Anne Savage vs. Lisa Lashes – Release Me (Organ Donors Mix)
Andy Farley & Base Graffiti – No More
Organ Donors – Tranceplant
Defunct – Fokkin Lekker (Rel1 Refix)
As usual, recorded live in a single take using Serato 2.0 with vinyl control records.